Meet Our Team:

Your Friends In Health & Wellness
Tania Klein-Breteler
Tania is passionate about ALL things health & wellness. She moved to Danville VA in January 2018 to be closer to family. When her older dog Scrappy was experiencing anxiety and some other ailments, she decided to try CBD oil. It really seemed to help him and there were no side effects. Since then, Tania and other family members have experienced the many benefits from the use of various CBD products. With over 30 years of retail and customer service experience, she decided to open Hemp Wellness Boutique in December of 2019. Her goal is to offer Danville and surrounding areas a large variety of the best organic hemp derived and Third-Party Lab Tested CBD products. Her mission is to help YOU find the perfect wellness products for your lifestyle.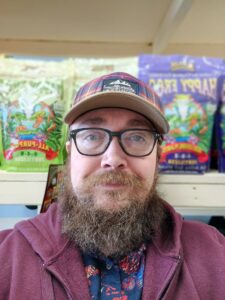 Michael P. Holland
Michael spent 20+ years in Raleigh before moving to Danville with his wife in 2018. He has spent most of his years either in the restaurant industry or supporting Linux operating systems. Michael is a believer in CBD for anxiety and better sleep. His interests range from computer games, electronics, and indoor gardening. Michael has worked at Hemp Wellness Boutique since July 2020.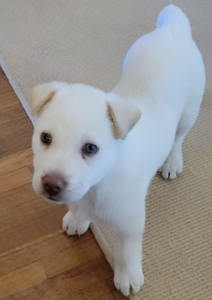 Max
Max had a rough start to his life. He was found under a shed with his 5 siblings in the freezing cold. Animal Control took them all to "It Takes a Village Rescue" where he spent 4 weeks in Foster care before getting adopted by Hemp Wellness Boutique. He is now a valued team member that will put a smile on your face no matter how bad of a day you are having!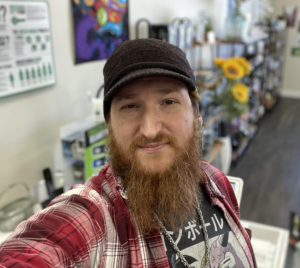 Ethan W. Jones
Ethan has lived in Danville VA and surrounding areas for the greater portion of his life, having left while serving six years in the U.S. Army. Now he resides in Danville again and uses CBD and several other of our products for his back pain, joint pain, anxiety and to help him sleep better! When you come into our store, he is ready to greet you with a smile and all the knowledge he possesses about our products. However, if he doesn't know, he will do his best to find out for you. Ethan loves acting, entertaining and singing. So be careful, he is known to randomly burst into song. He has a big extended family, two small boys of his own and he is currently engaged to be married.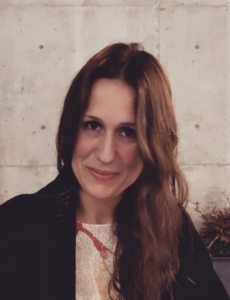 Bianca Klein-Breteler
Bianca works at Hemp Wellness Boutique on an as needed basis. She has a deep interest in plants & botanical remedies and an academic background in Biology & Counseling. As a member of the American Herbalists Guild, she has been studying herbal medicine for the last six years, including a three-year training program in clinical herbalism. She continues to be fascinated by the healing properties of plants and is excited to offer herbal consultations that can help support healing.